Summer Swallowtail CSA

Happy Spring Everyone, we are inviting you to be part of our first summer CSA! We start the first week in June and run 16 weeks into September. Pickups will be at our Milk and Honey of Swallowtail Farm space in Portland, our Crystal Spring Market in Brunswick, at the farm here, at the farm in South China, or in Damariscotta.
What do you get in your CSA?

A special cheese, a pick your swallowtail dairy item, a bouquet of herbs,medicinal weeds and flowers for tea , beauty, scent or otherwise noted, organic assorted garden veggies and handcrafted sundries like a bar of our farm soap, a mister of our handmade rose water from sea rose, a jar of one of our jams, pickles or other yummy kitchen magic items etc packed in a pretty basket. You will also get one of our swallowtail muslin drawstring bags for herbs or your cheese! Pictures above show some of our products, the bags and our American Cheese Society emblem. We won for 3 of our dairy products in 2015.
The cost of the share is $500 which works out to $31.25 per week. Payment is due by April 16. And if this is a problem please let me know as we can work out a payment plan. This is very different from our full pantry share as it runs 16 weeks instead of 6 and you have a choice of delivery on Wednesday or Saturday. It isn't food to put in your pantry but to eat that week. For bigger families  we recommend a double share and we offer a substitution of milk or eggs for the sundries as well, and you can let us know week to week for that. Delivery can be set up as well️. Please let me know as soon as you can if you will join us this summer, we are planting seeds now and will be putting cheese up to age.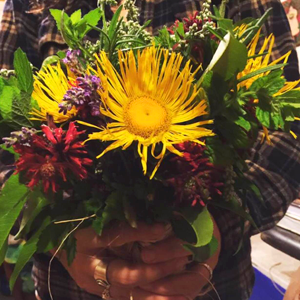 During the season there will be a recipe card each week, a potluck supper / movie night at Milk and Honey in June, and an herbal salve class that you'll learn how to make our marigold healing salve!
We would love to feed you!!! Love to have you continue to be part of our Swallowtail Family! Love to welcome new families as well.
With the warmest regards,
Lauren, Sean, Isabella, Django, Augustus, Abijah, Royal, Abel and Sparrow xo
To sign up:
Use our contact form and email me, or call: 207-837-3601. Or just let us know in person at the farmer's market.