Welcome to Swallowtail Farm & Creamery
We are a small diverse family farm that started out with a family jersey milk cow making our delicious, creamy yogurt for our family and friends. We started bringing our yogurt to our local farmers market and our small dairy business was born.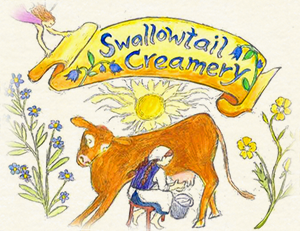 Our small farm is on the banks of the Sheepscot River in Whitefield, Maine where we raise our animals as nature intended never using any chemicals, pesticides, antibiotics or growth hormones. We have an honor system Farm Stand open daily on our farm from 8am – 7pm. Stop by every day for farm fresh goodies.
Our promise to you as we grow is to keep that same farm fresh goodness and gourmet taste that we started out with feeding our seven growing children.
Swallowtail Farm Café: Milk and Honey in Portland, Maine
Visit 84 Cove Street in East Bayside for lots of happenings, including the Swallowtail Farm Cafe, alongside Taproot Market! The café features dairy products from Swallowtail Farm and Creamery as well as herbal products, including elixirs, using herbs foraged or grown by Lauren.

Swallowtail Farms is a 2015 American Cheese Society awards winner!
Swallowtail Farms took home two second place awards at the American Cheese Society awards for its Ricotta Salata and its Caramel Sea Salt Greek-style Yogurt and third for our old fashioned cream topped yogurt. The American cheese society competition includes entries from North and South America. Learn more here.
Owner Lauren Pignatello featured in Portland Press Herald
Learn more about Lauren of Swallowtail Farm & Creamery, her new Milk and Honey café, and how she grew her passion for farm-fresh food. Read the article here.